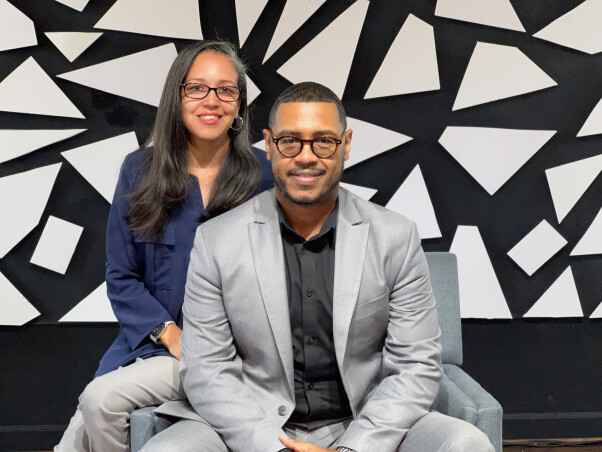 Pastor Broderick Santiago & Pastor Erika Santiago
About Pastor B
Pastor Broderick Santiago is the passionate and dynamic Lead Pastor of Mosaic Church in Mableton, Georgia. With over two decades of experience in ministry, he has dedicated his life to serving the community and empowering believers.
Pastor B is a firm believer in the power of mentorship and is actively involved in mentoring boys in the South Cobb area. He is also the co-founder of the Boys to Men Initiative, a program that is making a positive impact on the lives of young men in Cobb County.
Beyond his role as a pastor, Pastor B is a Church Planting and Revitalization Consultant, working to launch new churches and help established churches thrive. He is also a mentor, educator, motivational speaker, and community activist. His diverse skill set and passion for creating best practices and defining church culture have made him a sought-after consultant in the ministry and marketplace.
In his personal life, Pastor B finds joy in spending quality time with his wife, Dr. Erika Santiago, and their four children. They share a love for good food, travel, and Pastor B enjoys outdoor activities like cycling and grilling. Pastor B's dedication to his family and his commitment to serving the community make him a beloved leader in the Mosaic Church community.
About Pastor E
Dr. Erika Santiago, Teaching Pastor at Mosaic Church Mableton in Georgia, where she serves alongside her husband, Pastor Broderick Santiago. With four children and a 20-year marriage, they are a testament to the power of love and commitment. Erika's passion for travel and good food enriches her life and ministry, bringing a sense of adventure and appreciation for diverse cultures.
Erika's educational achievements include a Masters in Divinity and a Doctor of Ministry in discipleship from the esteemed John W. Rawlings School of Divinity. She has honed her skills in creating and developing discipleship and bible study content, teaching engaging bible study sessions, and leading Mosaic Church's Seminary Saturdays course.
As a pastor, teacher, speaker, and marriage coach, Erika is dedicated to empowering believers to become fully transformed disciples of Jesus Christ. Her expertise in divinity studies and her wealth of knowledge and experience make her an invaluable asset to the church community.
Erika and Broderick also have a thriving marriage coaching ministry, where they help couples thrive in their relationships. Erika is a certified SYMBIS facilitator, and together with her husband, they lead the marriage ministry at Mosaic Church.
Erika's passion extends to helping people grow as followers of Christ. She asks thought-provoking questions about theological ideas and challenges the concept of cultural Christianity. She is particularly skilled at assisting individuals in reconstructing their faith after periods of deconstruction.
With her warm heart, deep faith, and unwavering commitment to serving others, Dr. Erika Santiago is a true inspiration and a valuable asset to the Mosaic Church community.