Summer is here, and what better way to enjoy it than by coming together as a community and diving into the magic of movies? We are thrilled to invite you to Mosaic Church's "At the Movies" sermon series, where we will be exploring powerful life lessons through popular films. Get ready for a unique and uplifting experience that combines faith, fun, and the silver screen!
Starting from July 9th, every Sunday in July at 10am, we will be hosting our special "At the Movies" sermon series. Join us at Mosaic Church as we transform our sanctuary into a cozy movie theater. Grab some popcorn, sit back, and get ready to be inspired by the messages woven within some of your favorite films. We believe that stories have the power to touch our hearts and illuminate timeless truths.
At Mosaic Church, we value creating an inclusive and welcoming environment for all ages. Throughout the "At the Movies" series, we have planned exciting activities to make your Sunday mornings even more enjoyable. Bring your family and friends and indulge in the fellowship and fun that awaits you! We will have free popcorn for everyone, ensuring you have the classic movie experience.
To beat the summer heat, we will be providing delicious popsicles to keep you refreshed during the sermons. Additionally, on the last Sunday of July, which falls on July 30th, we are hosting a special BBQ immediately following the service. It's the perfect opportunity to connect with fellow community members and enjoy a hearty meal together. Don't forget to bring your own lawn chair for this outdoor gathering!
At Mosaic Church, we believe that relationships are at the core of a thriving community. The "At the Movies" series provides a unique chance for us to deepen our connections and engage in meaningful discussions. Through the lens of cinema, we'll explore the values and lessons that resonate with our lives, fostering growth and understanding as a community.
This summer, Mosaic Church welcomes you to embark on a cinematic journey that blends faith and film. Join us every Sunday in July, starting from July 9th at 10 am, to experience the magic of movies and the power of community. Bring your loved ones, your lawn chair for July 30th, and an open heart as we explore the profound messages hidden within popular films. Don't miss out on the popcorn, fun activities, and special BBQ on the last Sunday. We can't wait to see you there!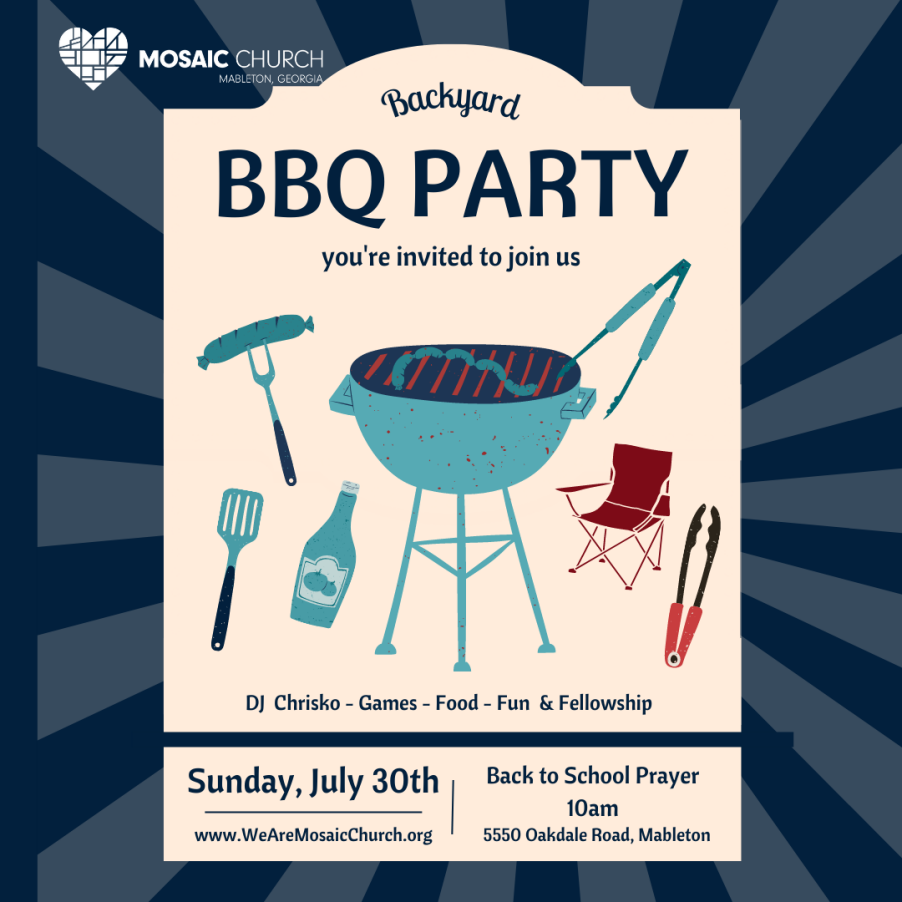 Note: Please check our website for any updates or changes to the schedule.