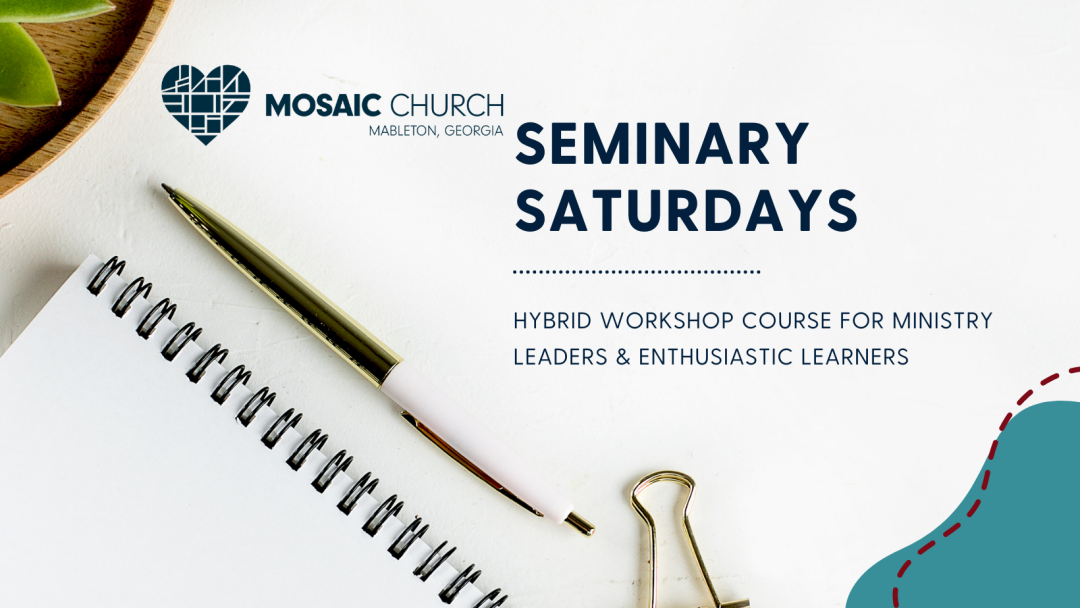 Introducing "Seminary Saturdays":
A Training Course for Ministry Leaders and Enthusiastic Learners
Are you passionate about deepening your understanding of the Bible, theology, and discipleship? Do you desire to grow as a ministry leader or simply expand your knowledge of Christian doctrine? Look no further! We are thrilled to announce the launch of "Seminary Saturdays" at Mosaic Church.
"Seminary Saturdays" is a unique workshop-style training course designed to equip ministry leaders, leaders in training, and anyone with a thirst for theological knowledge. This course offers a comprehensive curriculum covering a wide range of topics, including apologetics, spiritual disciplines, discipleship, history, theology, and the practical application of Christian doctrine.
Course Details
Dates: August 12th - November 4th
Time: 10:00 AM - 12:00 PM (in-person sessions)
Location: 5550 Oakdale Road, Mableton, GA
Fee: $99 per person ($250 value)
Early Bird Rate: 25% off before August 5th
We understand that life can be busy, so we've designed "Seminary Saturdays" to accommodate various schedules. The course will be held at Mosaic Church starting on Saturday, August 12th, and will continue every other week until November 4th. Each in-person session will run for approximately two hours, from 10:00 AM to Noon.
To ensure a rich learning experience, participants will receive a carefully curated workbook to accompany the course. Additionally, we believe that snacks can fuel both the mind and the body, so light refreshments will be provided during the in-person sessions.
We also understand the importance of flexibility in today's fast-paced world. On the off weeks when there is no in-person session, participants will have access to asynchronous learning through video lessons. This allows you to engage with the material at your own pace and convenience.
If you're ready to embark on this transformative learning journey, register today!
Join Dr. Erika Santiago for "Seminary Saturdays" and deepen your understanding of the Bible, strengthen your faith, and equip yourself for ministry. Together, let's grow as disciples of Jesus Christ and impact our communities with the power of the Gospel.
Don't miss this opportunity!
Register now and mark your calendars for the first session on Saturday, August 12th.
We can't wait to see you there!
*Note: Please check our website and social media platforms for any updates or changes to the course schedule.*